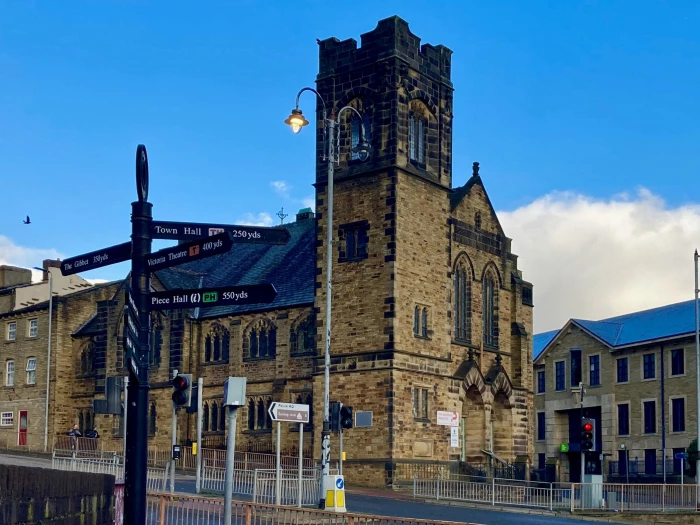 New Ebenezer (NE) formally Ebenezer Methodist Church is located on the edge of Halifax Town Centre and is therefore a centre for a number of outreach and community projects, these include: Food Saturday Drop-In, Youth work, Daytime courses, and is the base for Halifax Central Church since its development in 2012.
The building is currently managed by a Team of Methodist Ministers, Lay Workers, and representatives of the charities that use the building.
The 'roomy' halls with kitchen are available for private hire and events. As we are a non -profit organisation, all monies are reinvested back into the maintenance of building to support the charities and community it serves.
Parking: Although we are in the town centre there are usually many street parking places nearby at reasonable cost, (free on Sunday!), including a car park for 25 cars just 30 meters away.
For further information:
Concerning Building Maintenance, Hire and Administration: Contact Angie Ross, newebenezer2019@gmail.com.
Food Bank opening hours are:
Saturday 10am – 12pm Families
Saturday 12.30pm – 2.30pm Individuals
To Volunteer or Enquiries for the Winter Shelter (next door), the Gathering Place, and Food Support Drop-in please contact:
The Gathering Place – 01422 647390
Noshin Kanwal (Client Manager), noshin@christianstogether.org.uk
Becca Greenwood (Food Manager), becca@christianstogether.org.uk
Donations and latest information for The Gathering Place and Food Support Drop-In: visit https://saturdaygathering.churchsuite.co.uk/donate/fund/h5tisoch