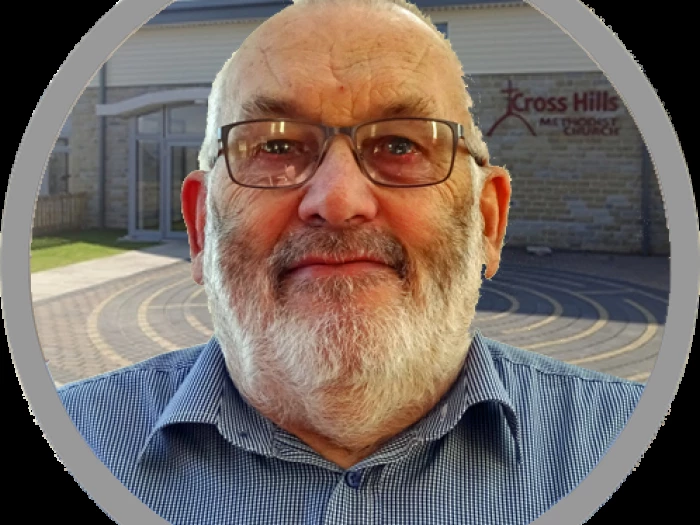 It was on Whit Sunday 1947 that I was baptised at Lindwell Methodist Church, and the Methodist Church has been apart of my life ever since. That is apart from a period of three years when Iwas away at college studying quantity surveying, when I and the church seemed in two different worlds. Then one Sunday, I went back, as if I had never been away, and I have been there ever since.
There was Lindwell, then Greetland and Lindwell, then Cross Hills and my involvement in church and Circuit, over the years, has been a significant part of my life.
I was a chartered surveyor for 40years and had been a Fellow since 1989. I had 31 years at John Laing (including the Halifax BS Head Office), and when I took early retirement I spent 7 years as Chief Executive and Stadium Manager at The Shay Stadium and eventually helped in getting the East Stand completed. I was a director of Pennine Housing from its inception in 2000, being initially appointed for my construction expertise. I was Chair of the Board in the last 4 years of my 10 years' service, then spent 6 years on the board of the parent company Together, which is responsible for over 35,000 properties across the North of England.
At Lindwell I was a Sunday Schoolteacher and a member of the Lindwell Group preaching round the circuit (my first sermon was at Wall Nook in about 1965, titled "What is a Christian"),before I went to college.
Then when I saw the light from 1969, I was on the Church Council, Property Steward, Church Secretary, and had been Church Treasurer from 1991, until I finished as Treasurer of Cross Hills in2019 (6 year rule lives – ok:??) I was Circuit Steward of the Elland &Greetland Circuit between 1975 and 1979.
I was a member of the Drama Group at Lindwell as an actor, then director, and also in the pantomimes, which I have now directed for a number of years, right up to the present day.
I find my current roles at Cross Hills to be tremendously satisfying, both as a worship leader and all the many ways we are able to maintain our ministry through worship, JC's, Youthie, Pantomime, Open the Book et al. I am currently a Project Enabler for the Districts One Opportunity Programme, having previously been a Project Enabler and a Mentor.
I was the 'Project Manager' for our new church building at Cross Hills, a great effort for a small church, and recently project managed the refurbishment of the Touchstone building in Bradford for the district.
I became Circuit Treasurer in2013, then a Circuit Steward in 2014 because of the shortage in numbers. I retired as Circuit Treasurer in 2018 when I became Senior Circuit Steward and will retire as a Circuit Steward in August 2021.