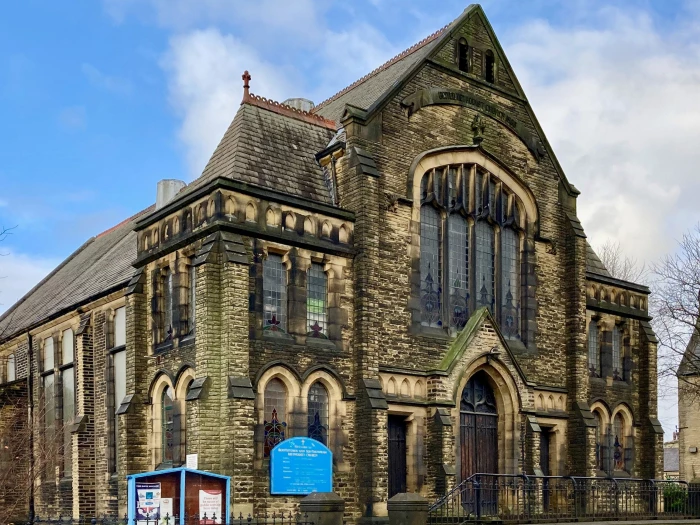 We're situated on the main road through Boothtown. Wherever you're reading all about us, we look forward to you coming to visit us. We would love to welcome you into our church family.
History

Boothtown United Methodist Church (as it was then known), owes its origin to the Reform movement of 1849/50. In 1851 a room was rented at the bottom of Ploughcroft Lane from Isaac Hartley. Prior to its adaptation, it was a Smithy and stable.
Our first church building was on the junction of Bradford New Road and Grantham Road, and was opened on Good Friday 1862 and was in use until 1907, when the new larger church was built on the current site, and opened on Saturday, 23rd March 1907.
Over the years we have been joined by other congregations as churches have closed and now have a congregation drawn from anywhere between Clifton and Queensbury!
Present

We have our main multi-purpose church area for worship, baptisms, weddings and funerals, as well as the church hall which hosts a variety of weekly activities as listed below. We have various fundraising events taking place throughout the year, including our annual Easter and Christmas Fayres. If you're interested in booking a stall at any of our events, the cost is £10 – please email boothtownsouthowrammethodist@gmail.com.
To hire a room, the current cost is £15 per hour – please email boothtownmethodistsbookings@gmail.com or contact our Senior Steward (see Who's Who).
See our Facebook page for more information Facebook.
Weekly Activity Timetable
SUNDAY
10.30am
Morning Service
MONDAY
10.00am-10.45am
Gentle Exercise to Music
Contact Christine on 07504 876564 or email: cbj1970@hotmail.com
6.15pm
Girls' Brigade (ages 4-18)
WEDNESDAY
1.30pm-4.00pm (1st and 3rd Wednesdays of each month starting in May 2022
Memory Lane- this is a local community group which has been providing support for people affected by dementia, other memory problems, and isolation since 2016. We are now a registered charity and every one of us is a volunteer.
Our regular café sessions here, and also at St Paul's Methodist Church, Sowerby Bridge, offer a varied and changing programme of games, music, information, support, cakes and conversation. Our enthusiastic volunteer team look forward to welcoming new members.
For more information ring June Harvey (Café Co-ordinator) on 07920 549131 or 01422 706373
12 noon-3.00pm (2nd and 4th Wednesday of the month)
Our Place- this is a local charity which provides social sessions for Calderdale residents primarily over the age of 60 (including carers), this includes those with disabilities or mild to moderate dementia symptoms.
For £10 per session (£15 together with carer), we include; a two-course meal, refreshments throughout the day, games, activities/entertainment and a transport provision is available if required.
We also arrange regular day trips and events for guests and their carers to attend.
If this group is something you or someone you know might be interested in please get in touch with us on 01422 525529 or email coordinator@calderdaleourplace.co.uk
6.30pm – 7.30pm
Boys' Brigade Anchor Boys (age 5-8)
Contact – 18halifax@boys-brigade.org.uk
Facebook – https://www.facebook.com/boothtownbb
7.30pm – 8.30pm
Boys' Brigade Junior Section (age 8-11)
Contact – 18halifax@boys-brigade.org.uk
Facebook – https://www.facebook.com/boothtownbb
THURSDAY
10am to 11.00am
Coffee Morning(last Thursday in the month is usually a charity event)
7.00pm – 9.00pm
Boys' Brigade Company/Senior Sections (age 11-18)
Contact – 18halifax@boys-brigade.org.uk
Facebook – https://www.facebook.com/boothtownbb