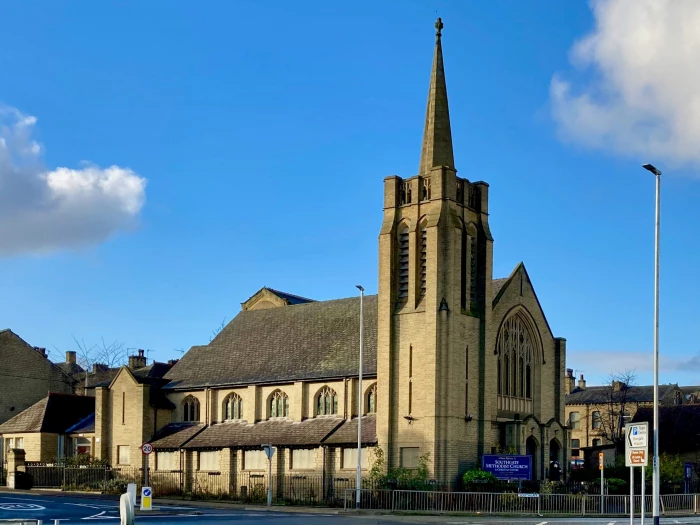 Welcome
We are an active church with many weekday activities as well as Sunday worship. In addition to the church itself, the three-storey ancillary premises (known as the Southgate Christian Centre) consist of two large halls (one with stage facilities); a coffee lounge; a number of meeting rooms; and an approved kitchen which serves regular shoppers' lunches. The premises are fully accessible for the disabled. A Drama and Social Group produces a play and a musical on the stage every year and occasional social and fund-raising activities are also organised. Further details are on our website.
Worship
Main service in the church, which commences at 10.30. There is also an evening service at 6.00pm. There are regular Communion services in both the mornings and evenings. The choir leads the singing and meets weekly on Wednesday evenings for rehearsal.
A warm welcome awaits everyone!
Potted history
The original church on the site was built in the late 19th Century and now forms part of our ancillary buildings (Southgate Christian Centre) which were extensively refurbished recently, being fully equipped for disabled access. The present church was built in 1915 as St. Paul's. In 1973 it combined with two others in the area to become Elland Southgate.
In the summer of 2015, we celebrated the centenary of the present church building with special services and a major exhibition illustrating the life of the church family over the previous 100 years. A special brochure was produced, together with limited edition china mugs. Further details are on our website.
Regular Weekly Events
For further details and contacts, please see our website.
SUNDAY
10.30am
Morning Service
SUNDAY
6.00pm
Evening Service
MONDAY
6.15pm
Girls' Brigade
During term time
TUESDAY (monthly)
7.30pm
Tuesday Group (ladies' meeting)
TUESDAY
9.30am
Parent & Toddlers Group
During term time
WEDNESDAY
6.00pm
Boys' Brigade
During term time
WEDNESDAY
7.45pm
Choir practice
THURSDAY (fortnightly)
2.15pm
Ladies' Guild
FRIDAY
10.00am
Coffee morning
FRIDAY
10.30am
Prayer Group
FRIDAY
12.00 noon (monthly)
Shoppers' Lunch
FRIDAY
12.00 noon
'Philia' snack lunch
(mostly monthly – check our website for dates)
FRIDAY
5.00pm
Soup & sandwiches
(snacks and fellowship for the needy) mostly monthly
SATURDAY
10.15am
Food Bank & Support
Community outreach
Our extensive premises are used by a number of church and community organisations:
Boys' and Girls' Brigade Companies meet weekly all year, except for July and August.
A parent and toddlers' club also meets weekly.
There are two ladies' groups; and a weekly coffee morning is held every Friday, during which a prayer meeting is held, to which all are invited.
Monthly shoppers' lunches are provided on the first Friday of the month; and at other times snack lunches are provided.
Soup and sandwiches are offered to those in need on certain evenings, as part of our 'Operation Christian Welcome' initiative.
Every Saturday morning the church hosts and supports the Elland Food and Support Drop-In.
Various community groups hire the premises including Probus Groups; Yoga groups; Slimming World; St John Ambulance; Trinity music Exams; etc.