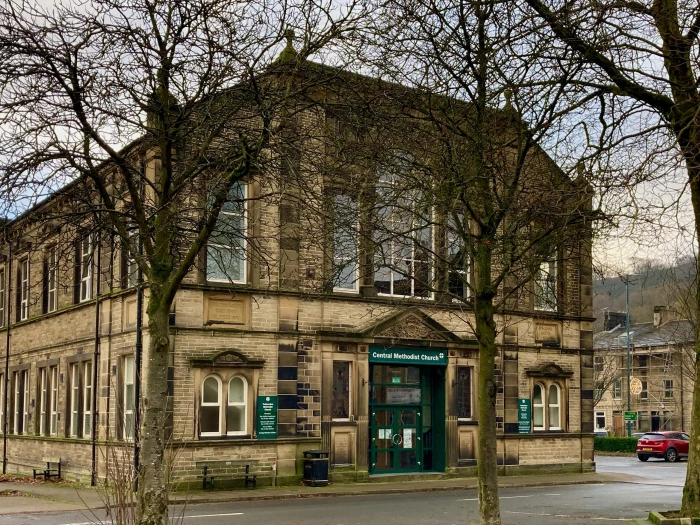 Church services are held every Sunday morning at 10.30. The congregation is usually about 30.
Holy Communion is normally held once a month.
Church activities
TUESDAY
9.30am-10.30am
Babies and Toddlers Group (BATS)
Contact Leslie & Pat (01706 814754)
WEDNESDAY
10.00am-12.00
Coffee Morning
Contact Pam Booth (01706 818729)
WEDNESDAY
7.30pm
Bible Fellowship – has not yet restarted after lockdown
Janet Beardwood (01706 551944)
SATURDAY (the first in the month) – restarting in December
10.00am-12.00
Church Coffee Morning (Profits to different charities)
Organisations meeting at the church
MONDAY
7.30pm-9.30pm
Three Valleys Gospel Choir (upstairs)
Contact Lynne 07768 656735 or Meg 07791 548 763 Email
MONDAY (the third in the month)
7.00pm
Todmorden Women's Institute
Contact Brenda Whiting 07471 203731
TUESDAY
7.30pm-9.30pm
Todmorden Orchestra
Contact Jennifer Moorhouse 01706 817333
WEDNESDAY
7.30pm-9.30pm
Todmorden Choral Society
Contact 07825 005222 or Email
THURSDAY (the third in the month)
1.45pm
U3A Todmorden, General Meeting and lecture.
Contact 01706 813590 or 07979 624111. See details
SATURDAY (the last in the month, except August)
9.45am-2.00pm
Living Well (Calderdale Women's Cancer Support Network)
Contact 07794 688 180
SATURDAY (most of the middle Saturday mornings of each month)
Coffee mornings, run by different charities
8th/26th Calder Valley Scouts
Cubs
THURSDAY EVENING
6.00pm-7.15pm
Contact Email Dave , 08432 890163
Scouts
THURSDAY EVENING
7.30pm-9.15pm
Explorers
THURSDAY EVENING
7.30pm-9.15pm
Beavers
FRIDAY EVENING
5.30pm-6.45pm
The above are the 'normal' activities at the Church, but please note the building is currently closed due to the Coronavirus epidemic.