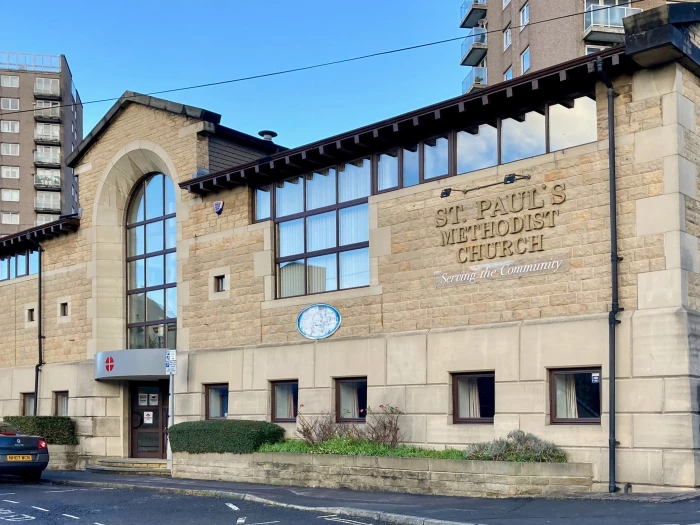 Sowerby Bridge Methodist Church came into being in September 1978 as an amalgamation of two local churches, Bolton Brow and Tuel Lane. In 1979, the modernised Tuel Lane building was opened and the church renamed as St Paul's. Within a matter of months two other local churches, Rooley Lane and Boulderclough, had amalgamated with St Paul's but, unfortunately, early on Easter Sunday 1988, the premises were subject to an arson attack and completely destroyed by fire. However, by October 1990 it was possible to open our current purpose-built church on the same site, located in the heart of the local community, within the town centre, just off the main road.
Our Church is mission-based, primarily focused on serving this local community, with our premises being in constant use seven days a week. We meet for worship every Sunday morning at 10.30 am for various styles of child friendly Worship, including Junior Church with the children leaving early on in the service for their own activities and returning at the end to share what they have been doing. We have an active youth marching band, and the full range of Scouting and Guiding groups attached to our church that join us for All Age Worship and Parade services four times throughout the year.
Minister:
Revd A. Kathie Heathcoat (above)
Church Stewards:
Dawn Teague & Angela Hellowell (Senior Stewards)
Wendy Young, Eileen Gledhill, Ruth Lee
Worship Leaders:
Liz Cheetham, Eileen Gledhill, Angela Hellowell, Angela Lane, Ruth Lee, Rachel Pegg, Karen Walsh, Wendy Young.
Treasurer:
Dawn Teague
Junior Church:
Dawn Teague
Bookings Secretary:
Angela Hellowell (above)
Weekly activities
Where any use Zoom, please request the link from Revd Kathie Heathcoat, Dawn Teague or Angela Hellowell.
WORSHIP:
Sunday morning @ 10.30am
Evening worship @ 6pm – via Zoom (Upper Valley)
TUESDAY:
7.30pm – 9.00pm Scouts
8.00pm – 9.15pm Rangers
WEDNESDAY:
6.15pm – 7.15pm Beavers
6.15pm – 7.15pm Cubs
7.30pm – 8.30pm Upper Valley Bible Study – via Zoom
8.00pm – 9.15pm Explorer Scouts
THURSDAY:
5.30pm – 6.30pm Rainbows
6.15pm – 7.15pm Brownies
6.45pm – 8.00pm Guides
FRIDAY:
10.30am – noon Coffee Morning
6.15pm – 8.15pm Imperial Drum & Trumpet Corps Practice
For information on youth activities contact: scott-uph@hotmail.co.uk 01422 882634
For all other activities contact: stpaulshx6@talktalk.net 01422 839736

##Christmas at St. Paul's
Please click here to view our recording of the Bible Society Nativity story. This is a family-friendly telling of the story with actions which children can join in with. We are also encouraging children to dress in their Nativity or other Christmas outfits and upload pictures to Facebook.